Sample Poetry From The Chapbooks
And

---
These selections of poems are from each of my chapbooks.
Of which I will update periodically. I think they are self-explanatory.
So enjoy!

This selection is from
"Choices" ©




"See The Mask In The Mirror"




The Mask
The Mask Of A Clown




With A Lone Tear
Cascading Down Its Colored Cheek




Such A Sad Sight
For I See My Reflection




Staring Back At Me
With The Whole World Laughing At Us




Everyone Thoughtly Amused
Except For Me And My Clown




This selection is from
"Savage Soul" ©


"A Two-Way Street"




I Am Fire


And Water


I Am Mother Earth


And Father Time




I Am The Sun


And The Moon


I Am Various Personas


All With Many Masks




Shielding The True Self


From Ever Being Seen




Except For You


For You Know


The True Me


Is Not What They See




Only You Understand


Who I Am


I Am For You


As You Are For Me




This selection is from
"A Rainbow Of My Mind" ©


"Everyday Evolution"




Testing The Bounds Of Reality


Pushing The Reality Of An Existence




Making An Existence Extreme


When No Extremist Is Needed






To Experience An Experience


At Least One Per Day




It's An Everyday Evolution


Where We Constantly Evolve




This selection is from
"Lovesick Lines" ©




"Always"




Do You Feel The Same


No One To Blame


My Soul Burns


As I Toss And Turn


Heart Has Succumb




Brain Is Numb


My Lips Cry Out Your Name


My Life Will Never Be The Same


Like The Pounding Sea


Our Love Will Always Be




This selection is from
"Hours Into Days" ©


"A Final Farewell"




Lovers Family


And Friends




All Have Gathered


To Pay Homage




To The Person


You Were




You Are No Longer


With Us




Yet A Part Of You


Will Always Remain In Our Hearts




Well After


Our Final Farewell




This selection is from
"Now That's Just Plain Silly!" ©


"Daily Duty"




As I Awake From The Dead


On The Sunny Side Of The Bed


I Say Hello Alienation


And Then I Put On A Pot Of Resurrection


While I Turn On The Mass Destruction




I Wait To Watch The Weather


In Order To Wear Whatever




Then With Time Spent


Out The Door I'm Sent




With My Game Face On


I Tackle My Agenda At Dawn


So I Can Be Master Of My Domain


Yet As I Step From My Morning Train


I Realize That It's All In Vain




This selection is from
"Falling Pain" ©




"Dying To Live"




You Must Die Many Deaths


Before You Can Cry Over The Life You Live




Even Though You Truly Understand
The Pain You Are Receiving If Any That Is
For The Pain Pleasure Principal
Is A Contrast In Comparisons
Good Triumphs Over Wickedness


In A Quest For All That's Proper
Remember These Words Before You Complain
Take The Time To Think About Them




You Must Die Many Deaths


Before You Can Cry Over The Life You Live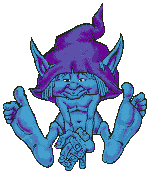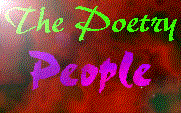 Original Stories and Poetry









FREE/Exchange Links...add your URL!








---
Last Updated June 2000 by Chuck E.